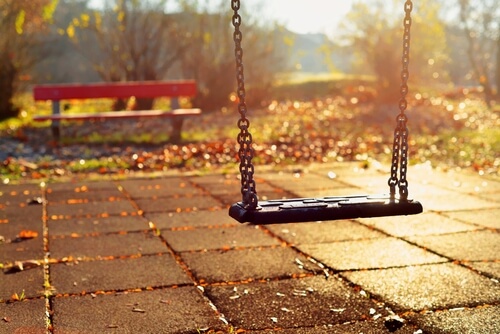 Very recently, I led my four children (ages 9-14) on a brief excursion to the local park. Just two blocks from our home, the park is one of the classic-styles we all know well: Some eight to ten acres of open space that is adorned with trees, picnic tables, and a baseball field; an old band shell still used for summertime concerts; and the ever-present playground with swings and slides and climbers.
After several minutes of playing catch on the ball field, the kids wanted to move over to the playground, which of course I was more than happy to assume the rightful position of 'Dad-at-the-Ready' (in the shade) with our ice chest of cold drinks, and my occasional waves and a watchful eye to yell out "good job!" to the great achievement one of the kids would invariably, often repeatedly, insist I see right then.
As my kids arrived to the unoccupied swing set—thankfully, a four-swing configuration, meaning every one of my brood had a place to ride—I noticed how easily the older and more experienced kids helped the younger ones get started, by pushing them from behind to get their momentum. In an instant, they were all eagerly going back and forth, creating their own energy and enjoying their place and time among the group.
Then, almost as suddenly, one of them called out to the others to see who could 'jump' off the swing and land the farthest out front. Just like that; I realized the same simple and supportive environment where acts of helping one another had become competitive.
This competition evolved as they all grew interested in playing something else, and I noticed that the one who had 'won' the "leaping" contest (also known as the 'Let's scare Dad' activity), persuaded the rest into an obstacle course-like run through of the climber and tubes and slides. It was interesting to see how immediately the winner had been granted some degree of additional power for the results of the last activity. Now, this was an important distinction, because it was not the oldest who won that little leaping contest—but the third oldest.
So, after two just two 'events', I'd seen some rather compelling illustrations. First, I saw how willing everyone was to help one another when the group began at the same time on a common activity. Then I saw how equally quick a common opportunity to participate could evolve into a competitive process. Moreover, it illustrated how a group could defer to one among itself because of a singular success and not necessarily because the 'leader' (winner) had demonstrated a particularly important or larger skill-set or expertise for the future needs or desires of the group.
Then it really hit me.
In our own organizations we, too, can fall prey and too quickly seek the opinion of someone who has had a recent, singular or specific success but who also may be ill-prepared to truly understand the needs of the organization or group as we approach a new goal. Similar to Groupthink, this underscores the influence personal experiences of others in our organizations can have. It also caused me to understand how as young children that same influence can have a lasting effect in the way we perceive or identify leaders.
What we really should help develop among groups is the ability to create and share their own opportunities for success, as well as opportunities-as-a-leader, so that more of our organization learns how to manage and give that power back to the group. We as leaders of our groups must find new arenas for success to occur and prepare each of our colleagues to experience it. But exactly how do we manage our own successes at the individual and group levels? More importantly, how are we perceived as we manage successes?
As leaders, the very example of the form of leader and follower we want—and need—in our group can be demonstrated and learned. By allowing colleagues to learn how to accept new opportunities to lead, and the power and its own responsibilities that can result from those opportunities, we are then leading in every direction and also demonstrate the form of followership that builds confidence, trust and dedication.
This article was originally published at http://www.careersingovernment.com